Is that not some of the prettiest signed books you have EVER seen?!
So I am really behind with getting this up but I will admit defeat with my IPhone... I was silly and forgot my camera so was stuck using the phone which refuses to give up the pictures to my computer!! I have taken to individually emailing every single one to myself to get it here... Anyway lets get to the awesome that was this event!!
So basically I was early like every time (because I would rather wait hours and be first up there than wait hours later and be last) but this allows me to get the pictures from the front normally too. The wait was very much worth it for these ladies! In fact it was more than worth it they were freaking amazing <3
I sadly armed with just my phone missed Emmy in that picture but let me tell you she was so great. I guess as an author you would get used to all the people practically vibrating just to talk to you but she answered questions with such ease and confidence that it was seriously debatable that she was reading peoples minds and preplanning the answers to their questions ;)
Jessica was so incredibly sweet and seriously without sounding creepy and stalker like does she not have the prettiest eyes?! She was seriously all smiles and so easy to talk to and when you get to the bottom she offered up some really great extras for me to give to you guys!! Oh ad because I was all awkward about taking my picture with her she decided to go with the flow and be all odd with me (probably to make me feel less awkward). Sadly sad pic is really blurry (STUPID phone).
Okay so **takes deep breaths** I totally met ANNA BANKS!! *flails* Yes immature I know but when you have a Mermaid obsession and could not get enough if you tried and then one of your fav Mer authors is in front of you... Well I blanked O_o yup... But she was super sweet and drew me a pretty picture because she missed M&M Month. I would like to add that she is hysterical!! She is so much fun to listen to.
So something I learned is the Leigh Bardugo is GORGEOUS and also very funny. She is so passionate about about her books. Not that the other girls weren't but she really sparkled when she talked about her inspiration and writing.
Gennifer is also stunning. I loved her outfit so much <3 She was a lovely person to talk to (well they all were but ya know...). I was so excited to see her name on the Toronto stop! I had actually read Crewel not too long ago and wanted to ask about Altered, which I didn't get to because I was just so happy to be talking to her! So if you are a blogger that ends up with a copy I love you and would love to trade <3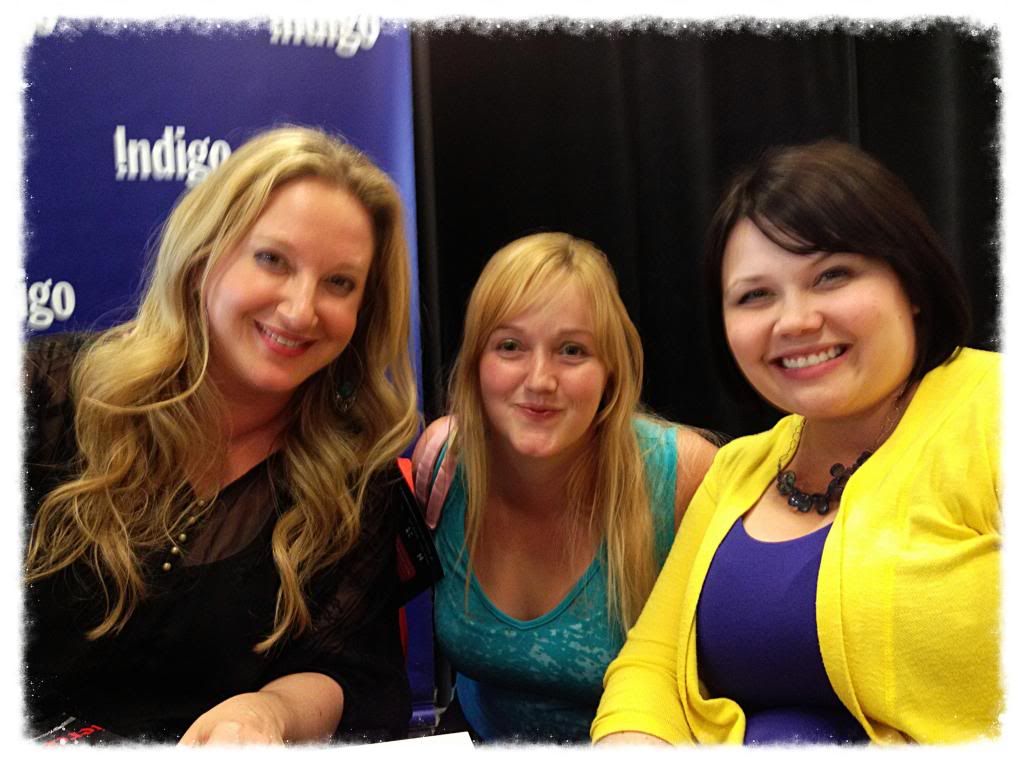 Well that is all and I am sorry I don't have any of the fun facts but because of the no camera situation I couldn't record it :( Bottom line was these girls were all AMAZING and fun to listen to. It was so obvious that they were having fun travelling together.
Giveaway!!!!!!
So I had debated on if I was going to give my most treasured posters away and I decided that some super lucky people that didn't get to see these ladies like me would surely treasure them and I should. Then there is all the extra signed bookmarks and extras they gave me! Buttons, bracelets and more. jessica even gave me 2 signed samplers to give away <3 There is also a SIGNED ARC of Of Triton and I may have debated on crying a little when posting this but I know if you enter for it you will LOVE IT!! So I am going to run this on how many people enter. For every 5 people I will add a prize.
5- 2 people get assorted swag
10- Prize 1 plus the ARC & swag
15- Prize 1 & 2 plus the signed Leigh Bardugo Poster
20- Everything above + The Poster Signed by all the Authors <3
Assorted swag (signed & not)
<-- Poster signed by all 5 Authors!
Signed Leigh Bardugo Poster!