Weekly Report is my way of showing you from week to week (most of the time) what new books I received and what has gone on in the past week. So basically it's a report for all the awesome that I got and shared! Originally I posted IMM by Story Siren this is just my version with a little extra ;) all book names take you to the Goodreads page.
So I have to say I am sorry for not doing my weekend post in several weeks. I am working on trying to go to school and renovating my house so life has been crazy to say the least. However I do not really feel that is an excuse and I am sorry. I am actually late in bringing you up to date with the #YEAHYA event I attended recently and a couple I did awhile ago!! So they will be up this week and next. To get back into the swing of everything I have set up a giveaway that was going to go with my #YEAHYA post but I figure I will give you all a head start on entering <3 Look at the bottom of the post!!
Anyway here is what I have gotten over the last month basically:
BOUGHT
Because I was in Toronto and around the corner from a BMV I decided to stop in and see what I could find and well I found these 3 great books!!! I am super excited for The Arrivals (I love Melissa Marr!!) and can't even explain how excited I was to get it for $9.99!
Seeing I got an ARC of Fire With Fire (see below) and I borrowed the copy I read I thought I should buy a copy to read again so I could be perfectly up to date when I read the 2nd one. Bought this beauty from Chapters!
WON
Thank you once again to team Tynga's Reviews for hosting wonderful giveaways! I was excited to win this signed copy of The Keep!! Motivation to finally get on the series that has been sitting for WAY too long!!
GIFTED/FOR REVIEW
Centaur Legacy by Nancy Straight
In case you all don't know Nancy Straight ROCKS!!! I am completely head over heels for this series and seeing I just got it on Friday (the renovation thing prevented it's much anticipated start!) I will be reading this beauty as you read this post...that is if you are reading it the day it goes up. If you haven't started the series DO!! It's free on Amazon HERE!!!!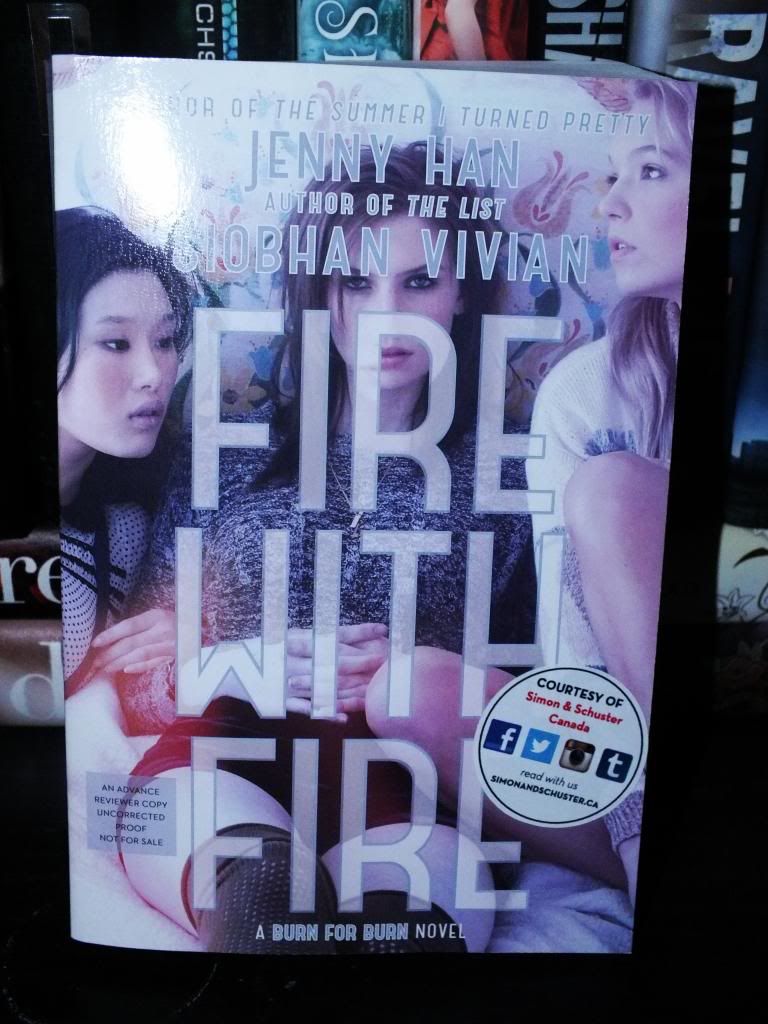 Fire With Fire by Jenny Han
Thank you to Simon & Schuster Canada for this beauty!! I can't wait to get started!
NEWS
So I can not even tell you how excited I was when contacted by an author that I have admired for a long time about using a couple of lines out of my review to be quoted on Amazon!!! OMG YES!!! Tangled Tides by Karen Amanda Hooper had quickly become a favourite of mine and I basically happy cried that she even asked me!! Visit
HERE
to see and purchase this fantastic read!!! Thank you so much Karen I can't even begin to tell you how honoured I feel!
Please also add it to your GR because honestly YOU WILL LOVE IT!!
GIVEAWAY!
So this is basically going to be a comment giveaway. You can comment on ANYTHING you want daily to collect entries. If this gets busy enough I will add something... I'm not sure if it will be a swag pack (A BIG one with signed & not signed swag) or a book of choice... You can leave what you would prefer in the comments below. Please be thoughtful with your comments. I do not expect a paragraph but any general: "Nice Review" "Thank You" or short things I will delete the entry & I do check.